Our Bee Treatment Service
Honey Bees are true bees and are vital pollinator's that are important to Ohio's agricultural success. As such, they shouldn't be harmed unless it's unavoidable. Furthermore, bees only attack people when their territory is threatened. The problem is these stings are painful and can be deadly if the person being stung is allergic and goes into anaphylaxis shock. So if you have bees or hives on your property, you'll want to get rid of them as soon as possible! We most often refer customers to the Miami Valley Beekeepers Association to attempt to remove honey bees safely. If extermination is unavoidable, please give us a call. Carpenter Bees are a common seasonal problem here in Ohio that can cause unsightly damage to your home. Dayton Pest Control can quickly resolve this issue with a simple one-time treatment!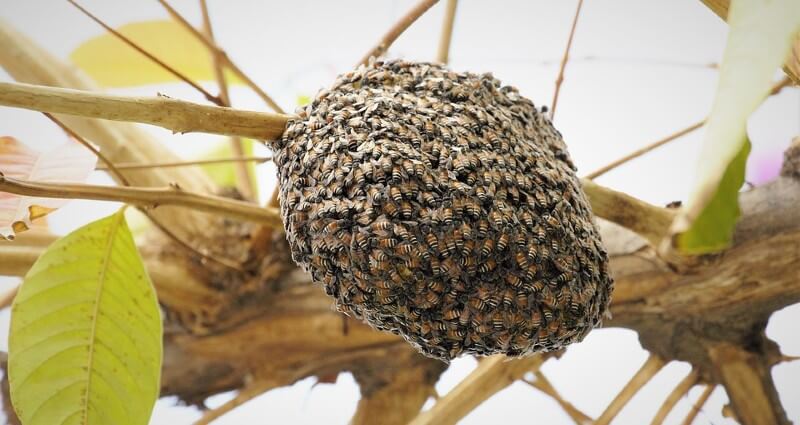 Our Unique Approach To Bee Removal
Calling a licensed professional to help you get rid of bees is your best option, even if you feel comfortable removing them on your own. Bees make nests in tricky spots like the ground, your home's walls, and other hard-to-reach areas, plus getting rid of bees depends on the time of the year.
We'll inspect different areas of your home, including the ground, grass clumps, and structures on your property, to locate each nest and identify the bee species. This step allows us to properly treat and remove the nests we find during our inspection.
We'll use an aerosol or chemical application to knock down the nest. This leaves a residual that lasts for 8+ weeks. For severe infestations, we may need to repeat this process a few times to ensure your bee problem is taken care of.
Occasionally, we'll apply dust in the hive's opening, ensuring everything inside dies, including larvae and immature bees. We'll also use dust around the top of the hive to prevent bees from coming out of other locations.
4. BEE EXCLUSION Recommendations
After the bees are gone, we'll provide recommendations on areas to seal to prevent future bee habitation. The best time to do this is in the early Fall months, so bees don't chew new openings in other locations.
Why Choose Dayton Pest Control, LLC
We're passionate about helping people just like you get rid of unwanted pest problems. As such, we are proud to be the only pest control company in
Dayton
promising excellence in value, service, and trust.
Frequently Asked Questions
$35 Off Your First Quarterly Pest Control Treatment
First time doing business with Dayton Pest Control, LLC? Get $35 OFF your first pest control treatment!
Bee Removal
Starting at...
Thorough Inspection
Liquid Treatment
Dust Application
Seals Holes & Openings
★★★★★
"I had been trying to deal with a flea problem on my own for about a month. When I talked with Jarrod I could tell he understood the problem and had the correct treatment. Jarrod is personable and professional and was able to accommodate my schedule. I would definitely hire Dayton Pest Control again. As a small business owner, it is important to me to support other businesses in the community and a pleasure to do so with a great company."
- Cheryl D. in Centerville, OH
★★★★★
"Jarrod was friendly, prompt and professional. He explained the quarterly program to me for perimeter pest control and let me know what creepy crawlies that would take care of. He completed the work in an efficient manner and we have been so far so good! He urged me to contact him if we started seeing bugs in our home and explained that he would come back out to address those issues if that happened. I would highly recommend him."
- Melanie L. in Springboro, OH
★★★★★
"Dan and Jarrod were both very efficient, professional, and extremely friendly. They definitely live up to expectations. We're completely satisfied. This is how businesses should be run! They also have by far the best warranty and prices that we found after looking into multiple companies before finding Dayton Pest Control. I'm so glad and relieved to find a good, honorable family run company that truly wants to help the customer."
- Kaylynn T. in Cincinnati, OH