At Dayton Pest Control, LLC, we take a variety of approaches to control your ant problem. Most ant problems can be controlled by exterior measures with only minimal interior treatment when necessary.  Our goal is to use kid and pet friendly baits in target areas inside your home and no odor materials around the outside perimeter of your home. Dayton Pest Control, LLC is prepared to deal with your ant problem today!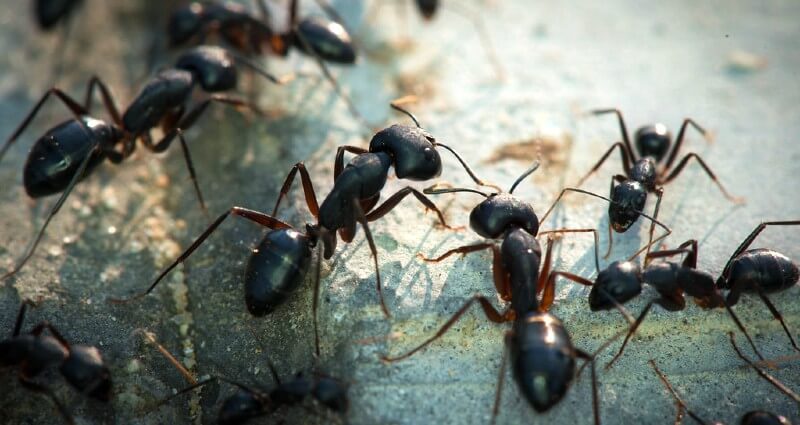 Our Unique Approach To Ant Control
Ants enter your home or business through tiny cracks in search of food and water. Once they've found what they're looking for, they invite all their friends by leaving a pheromone trail. Dayton Pest Control, LLC understands these habits and knows how to stop them dead in their tracks. Learn more about our unique approach to ant control below:
When necessary, we'll perform a thorough inspection in and around your home to determine the problem. However, we have found that we can most often help diagnose the problem by phone and explain how we can solve your problem.
2. INTERIOR ANT TREATMENT
Baiting is the preferred treatment method for ants in your home.  Ants help us out by feeding on this bait and take pieces back to the queen, killing the entire colony. This approach ensures the whole ant nest is eliminated.
3. EXTERIOR ANT TREATMENT
At Dayton Pest Control, we use non-repellent insecticides and granular bait around the perimeter of your home.  This provides ongoing protection against ants that will last approximately 90 days.  
Why Choose Dayton Pest Control, LLC
We love helping people and enjoy providing quality service for the community we call home. 
Frequently Asked Questions
Ants invade homes looking for food and water. So if you leave dirty dishes in the sink, food residue on your counters, or crumbs on the floor, you're essentially inviting meal-seeking ants into your home. This becomes a problem when those ants set up their nests in your walls, on your lawn, and around your home's foundation.
Ant infestations are a pretty big deal. One of the biggest problems related to ants is food contamination. Ants carry bacteria on their bodies, which spreads when they crawl in your sink and across your countertops. Now, only a few ant species carry insect-borne diseases, but finding any ants in your home is an unpleasant surprise.
To get your ant problem under control, a proper inspection is your very first step. This allows us to design a unique program for your specific situation. So please give us a call at
937-478-5776
to schedule your ant inspection. Our team is thoroughly trained in eliminating ant colonies and will keep these pests where they belong: out of your business and home.
$35 Off Your First Quarterly Pest Control Treatment
First time doing business with Dayton Pest Control, LLC? Get $35 OFF your first pest control treatment!
Ant Control
Starting at…
Ant Inspection
Interior Ant Treatment
Exterior Ant Treatment
Satisfaction Guaranteed
★★★★★
"I had been trying to deal with a flea problem on my own for about a month. When I talked with Jarrod I could tell he understood the problem and had the correct treatment. Jarrod is personable and professional and was able to accommodate my schedule. I would definitely hire Dayton Pest Control again. As a small business owner, it is important to me to support other businesses in the community and a pleasure to do so with a great company."
- Cheryl D. in Centerville, OH
★★★★★
"Jarrod was friendly, prompt and professional. He explained the quarterly program to me for perimeter pest control and let me know what creepy crawlies that would take care of. He completed the work in an efficient manner and we have been so far so good! He urged me to contact him if we started seeing bugs in our home and explained that he would come back out to address those issues if that happened. I would highly recommend him."
- Melanie L. in Springboro, OH
★★★★★
"Dan and Jarrod were both very efficient, professional, and extremely friendly. They definitely live up to expectations. We're completely satisfied. This is how businesses should be run! They also have by far the best warranty and prices that we found after looking into multiple companies before finding Dayton Pest Control. I'm so glad and relieved to find a good, honorable family run company that truly wants to help the customer."
- Kaylynn T. in Cincinnati, OH